---
eMotimo is a small, passionate, hands-on company, driven to create the highest-value camera products on the market. We enable photographers and cinematographer of all levels, to produce their visions and capture their moments in motion!
Our smallest and lightest bundle. Easy to pack and carry. Now available with either the original ST4 or the updated ST4.3
The eMotimo Spectrum ST4.3 is our recently released upgraded version that adds our new expansion port. The ST4.3 can now additionally connect up to 3 Tilta Nucleus M motors, making this up to a 7 Axis rig. 
The eMotimo Spectrum ST4 is a motion control pan and tilt head. The Spectrum is an advanced 4-axis motion controller for cinematography and photography that is faster, more accurate, and easier to use than anything else on the market.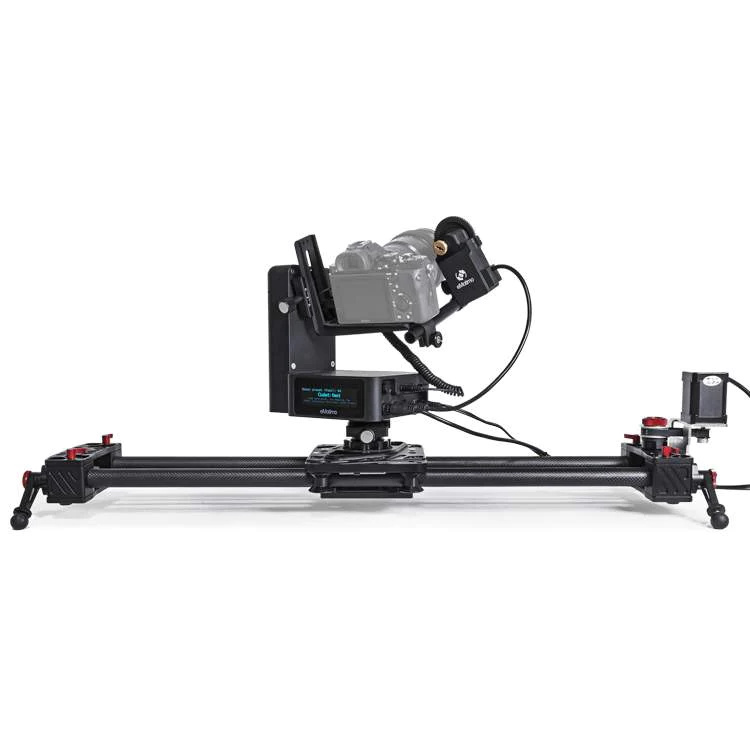 What's Included:
1) Spectrum ST4 4-axis motion control head or Spectrum ST4.3 7-axis motion control head (choose options) + Wireless PS4 controller
2) Spectrum medium hard case 
3) Universal L-bracket (camera / Fz motor mounting)
4) eMotimo Fz (Focus/Zoom) Motor
5) iFootage Shark Slider with 30 inch base and 2 foot extension (configurable to 2 and 4 foot lengths)
6) iFootage Integration Kit with motor(s) of your choosing - direct drive is fast, quiet and great for level shots. 14:1 geared motor is strong and meant for angled and vertical shots.  
7) uSD Card/Instructions
8) Arca compatible plate for pan axis
9) 12V AC power supply
10) CL-N3, CL-DC0, CL-S2 DSLR camera trigger cables
Size: 7.35" x 7.3" x 5"
Weight: 4.5 lbs.
Supports: 15 lbs.
Bulb Ramping: Yes, compatible with 3rd party solutions
Pan speed: 120 degrees/second
Tilt speed: 60 degrees/second
Slider speed: 12 inch/second
Powering specs: 12-24V. Minimum 2A. 3.5A preferred. Connector: 2.1mm x 5.5mm x 12mm circular barrel connector – center positive.a