eMotimo Spectrum ST4 - V (ST417_VM_MC) Spectrum ST4 Vmount
the eMotimo spectrum is our premier motion control pan and tilt head. Spectrum is an advanced 4-axis motion controller for cinematography and photography that is faster, more accurate, and easier to use than anything else on the market.
In The Box
1) spectrum ST4 4-axis motion control head
2) eMotimo Medium Hard Case
3) eMotimo Heavy Duty L-bracket
4) Optional VMount or Gold Mount Battery Plate
5) 12 Volt AC Power Adapter 
6) uSD Card/Instructions
7) Arca-compatible 50mm mounting plate on Pan Axis
8) PS4 wireless controller
Specs:
Movement: Pan, Tilt, and 2 additional powered ports (4 unique axis of movement)
Size: 7.35" x 7.3" x 5"
Weight: 4.5 lbs.
Supports: 15 lbs.
Max Pan speed: 120 degrees/second
Max Tilt speed: 60 degrees/second
Hardware map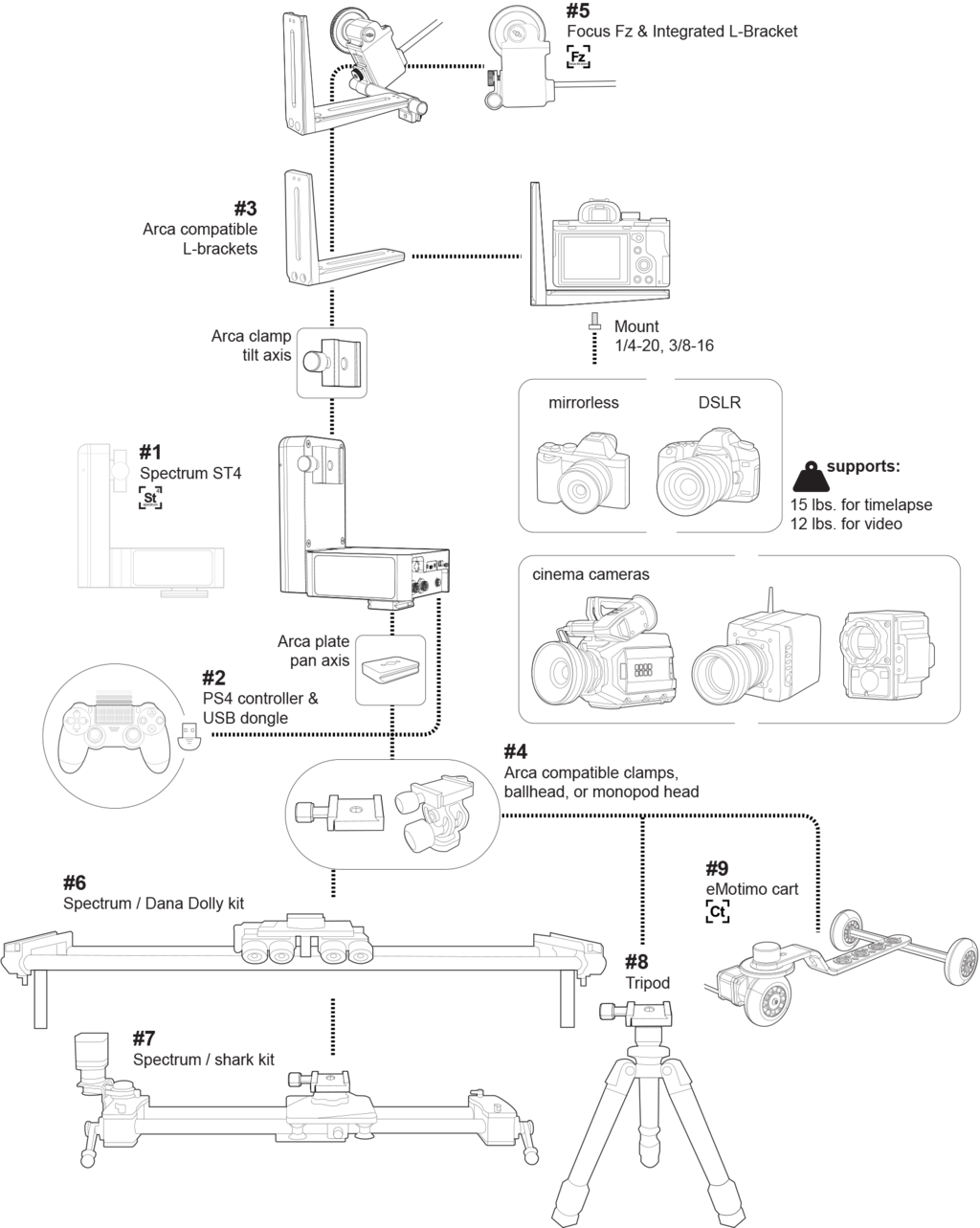 #1 Spectrum ST4: Spectrum ST4 controls and powers all 4-axis of motion at the same time.
#2 PS4 controller: The PS4 controller is included in every spectrum purchase. This control is great for wirelessly controlling 4 axis of motion precisely, intuitively, and simultaneously.
#3 Arca compatible L-brackets: To mount your camera to spectrums arca compatible tilt clamp, you will need to first mount your camera to an arca compatible L-bracket.
#4 Arca compatible clamps (ballheads, or monopod heads): Spectrums base comes with an arca plate mounted to the pan axis. You will need to lock it down by using an arca compatible clamp on your tripod or slider. For greater adjustability, mount spectrum to a ballhead or monopod head. These are great if you've moving up a slope on your slider and need to level spectrum, if you want to raise your spectrum up to avoid any interference, or for leveling on a tripod.
#5 Focus Fz & Integrated L-Bracket: Mount focus Fz to a 15mm rod. If you pick up our Fz + heavy duty L-bracket+ rail + clamp this is included and mounts to the end of the L-Bracket.
#6 spectrum ST4 / Dana Dolly Bundle
#7 spectrum ST4 / Shark Run & Gun Bundle: Mount your spectrum directly the the carriage on your shark slider and have spectrum control your linear motion.
#8 Tripod: Mount spectrum for panning and tilting to a tripod using an arca compatible clamp.
#9 eMotimo cart: Mount spectrum to the eMotimo cart by using a monopod head or ballhead.