Type: Goofy / for Vest: Walter Klassen / SKU: x-xR3ACH-Gfy-WK
xR3ACH Goofy for Walter Klassen
The new hybrid back mount, giving you greater boom range and more stabilization!
INTRODUCING THE  XR3ACH
The xR3ACH is a groundbreaking new hybrid back mount, that not only serves as a back mount but also acts as a single section articulated stabilization arm. 
It's an evolution of our fixed back mount, the xBONE, adding technology from our xARM and the result is a very robust hybrid backmount, with a small footprint that can take loads up to 29 kg/64 lbs *(See note below).
The boom range of the xR3ACH is 390 mm/15.3 inches, so when used in combination with the xARM, you get a total boom range of 120 cm/47 inches!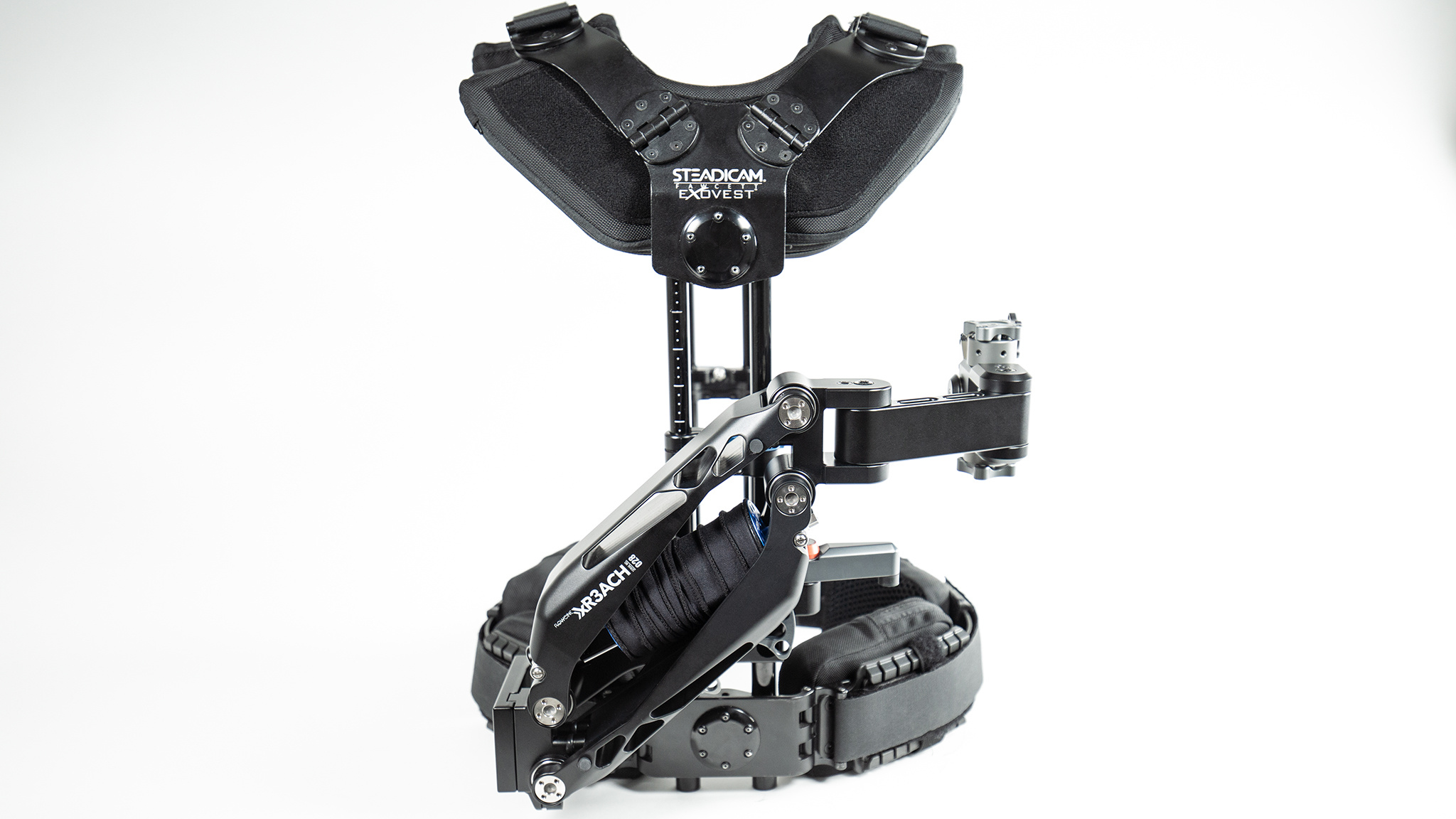 MOUNTING OPTIONS AND ADJUSTMENTS
The xR3ACH is back mounted and fits Tiffens Steadicam Fawcett Exovest, the Walter Klassen Flex and the Action Products Vest. Mounting hardware is supplied for one of the vests, which you choose upon order. 
It ships with three middle brackets of different sizes (S, M and L), used to fine-tune the position of the socket block, to ensure great fit for your specific vest and body type. The brackets can be mounted in fixed angles of 22.5 degrees, to further fine tune the set up.
It features a fully adjustable x-y socket block stage. The tilt angle is adjusted with a large knob, and the roll is adjusted like any usual socket block by two knobs. The roll adjustment on the xR3ACH socket block has a larger degree of adjustment than most other socket blocks on the market.
The socket blocks follows universal standard and is fully  compatible with Tiffen and GPI Pro.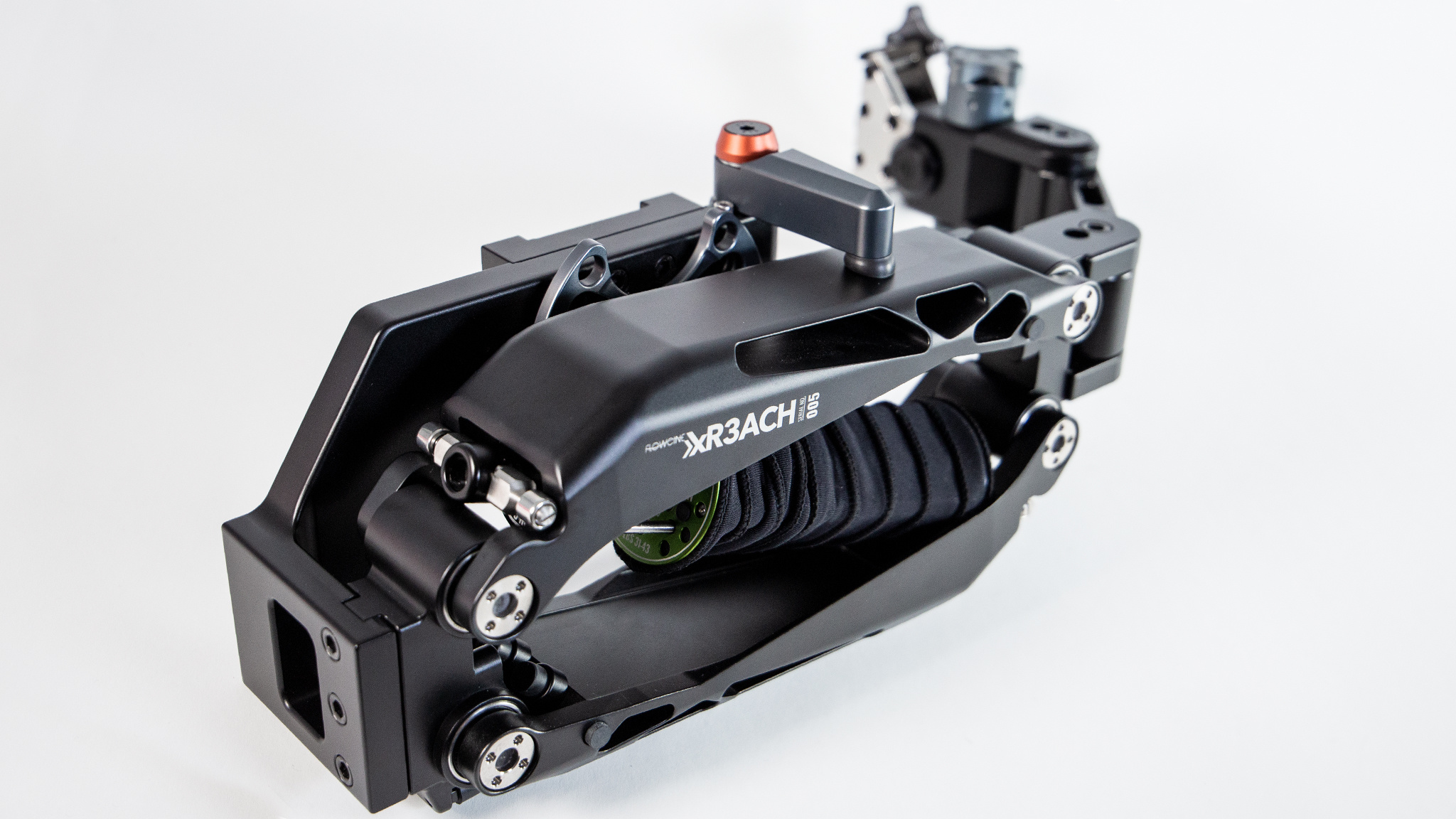 XR3ACH SPRING CORES
The xR3ACH is based on the same type of polymer spring cores used in the xARM, with an outer shell of Neoprene. Each spring core has a smooth and linear lifting capacity, and when being used near their maximum, they perform their best. Because of this, each spring core has a weight range of about 5 kg/11 lbs, allowing the operator to fine tune the arm to optimal performance. The xR3ACH normally ships with three different spring cores (Blue, Orange and Purple), to cover a range between 17-29 kg/37-64 lbs *(See note below). The spring cores are pre-extended and can be quickly changed when needed. The xR3ACH will give the operator a new idea of what it means to work fluently and smoothly with a minimal  force needed to maintain any position.
THE XR3ACH SHIPS DEFAULT WITH THE FOLLOWING THREE SPRING CORES:
Blue 17-22.5 kg / 37-49.5 lbs
Orange 20-25.5 kg / 44.5-56 lbs
Purple 23.5-29 kg / 52-64 lbs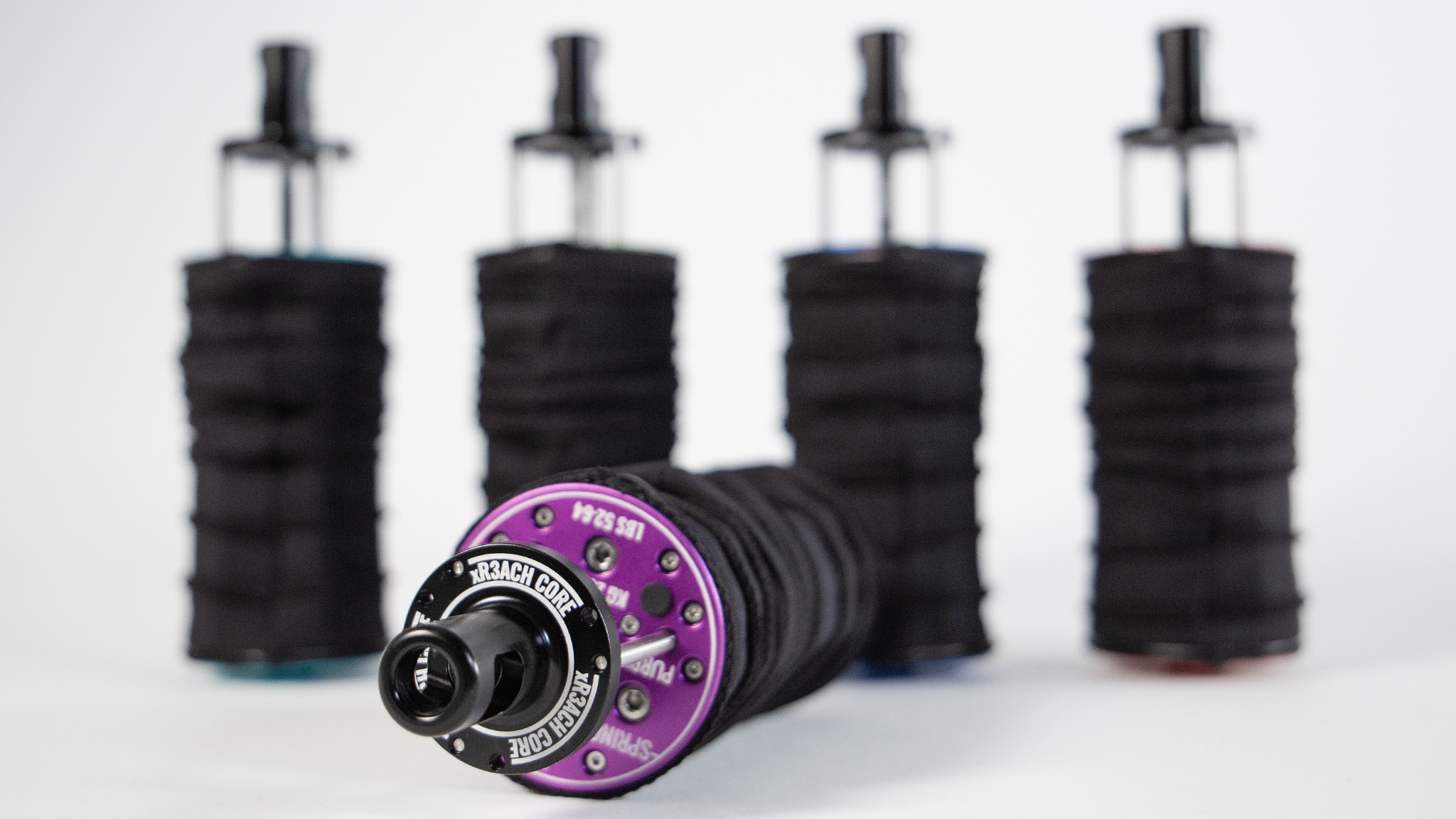 FOR LIGHTER SETUPS THERE ARE ALSO TWO LIGHTER SPRING CORES AVAILABLE: 
Green 14-19.5 kg / 31-43 lbs
Teal 8-14 kg / 17.5-31 lbs
*NOTE: Max load specified is for the sled/camera weight. The weight of the stabilizer arm (around 5 kg/11 lbs) is already deducted from the max lift capacity specified for the xR3ACH. If your arm is heavier than 5 kg/11 lbs you have to deduct the difference from the xR3ACH max load.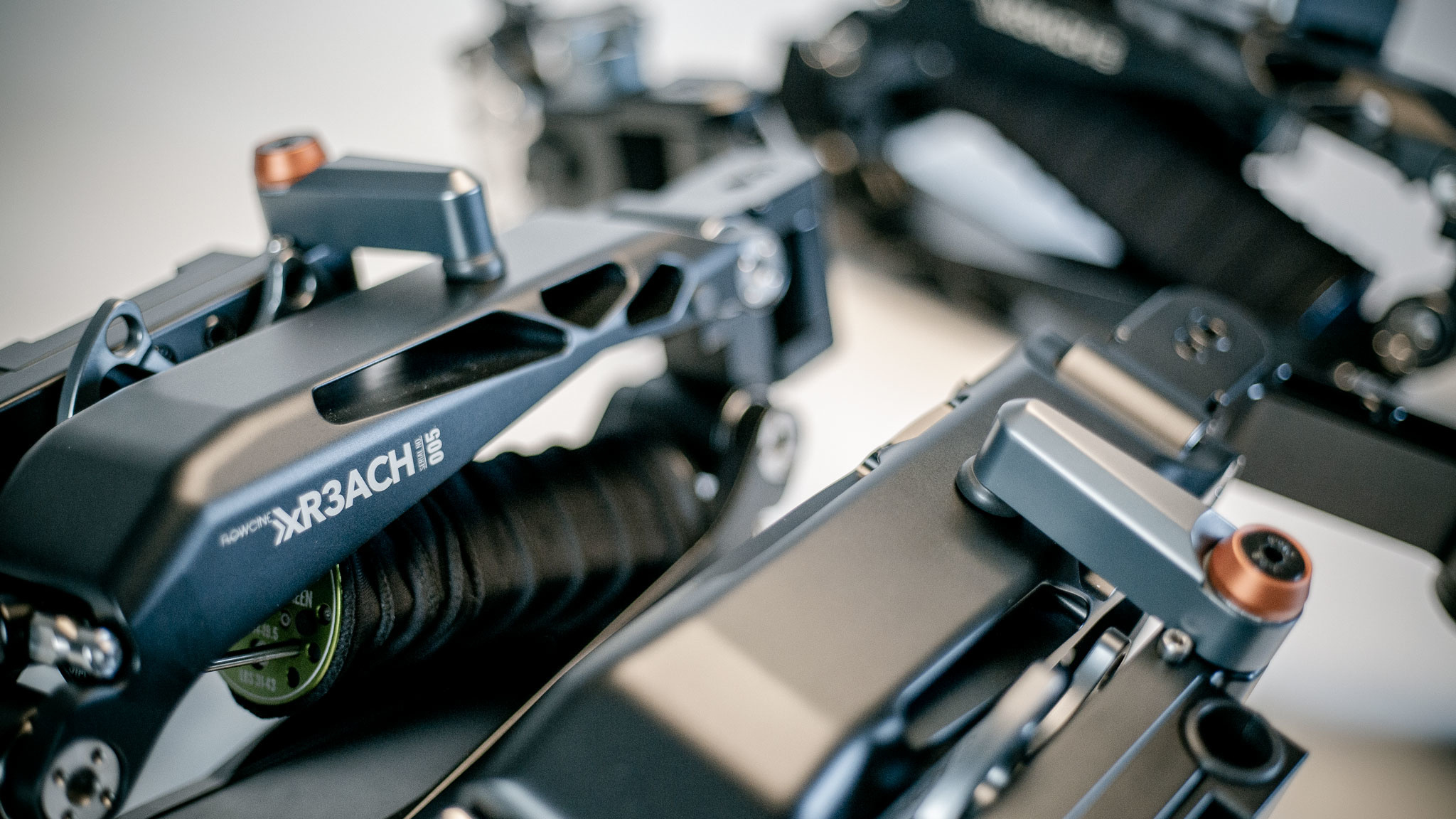 ONLY THE FINEST MATERIALS
All parts of the xR3ACH are made from aircraft grade aluminium, solid carbon fibre infused titanium shafts and large stainless steel precision ball bearings. All parts are made to give the operator a trouble free device with minimum maintenance. The very clean design makes it possible to give a frictionless and noiseless arm with absolute minimum push/pull force for its full boom range. The female socket block is made from stainless steel and other components as shafts, are made from grade 5 titanium to keep the weight low, still with minimum flex in the structure when using high payloads.
FEATURES IN SHORT
Large range of different lifting capacities in one single arm section
Up to 29 kg / 64 lbs lifting capacity. *(See note above)
Boom range ~ 390mm / 15.3 inches.
Weight of the arm is 4.4 kg – 4.5 kg / 9.9 lbs depending on middle bracket used (S, M or L).
Frictionless and noiseless design.
Easy to tune and easy to maintain.
All tools needed are included.
Ships with 3 spring cores, for a range between 17-29 kg / 37-64 lbs. *(See note above)
Ships in a Peli AIR 1555 case with custom foam.
Sold either as xR3ACH regular (sled on left side of the operator) or goofy (sled on right side of the operator).
INCLUDED IN THE BOX
1 x 

Peli AIR 1555

 case with custom foam (external dimensions 62.9 x 39.2 x 20.9 cm / 24.76

″

x 15.46

″

x 8.24

″

).
1 x xR3ACH regular OR goofy setup.
3 x Spring cores (Blue, Orange and Purple).
3 x Middle link brackets, size S, M and L
1 x Fixed 4-point tool.
1 x 10mm ring ratchet wrench.
1 x Wiha T-handle hex no 5.
1 x bottle of 303 Aerospace maintenance fluid.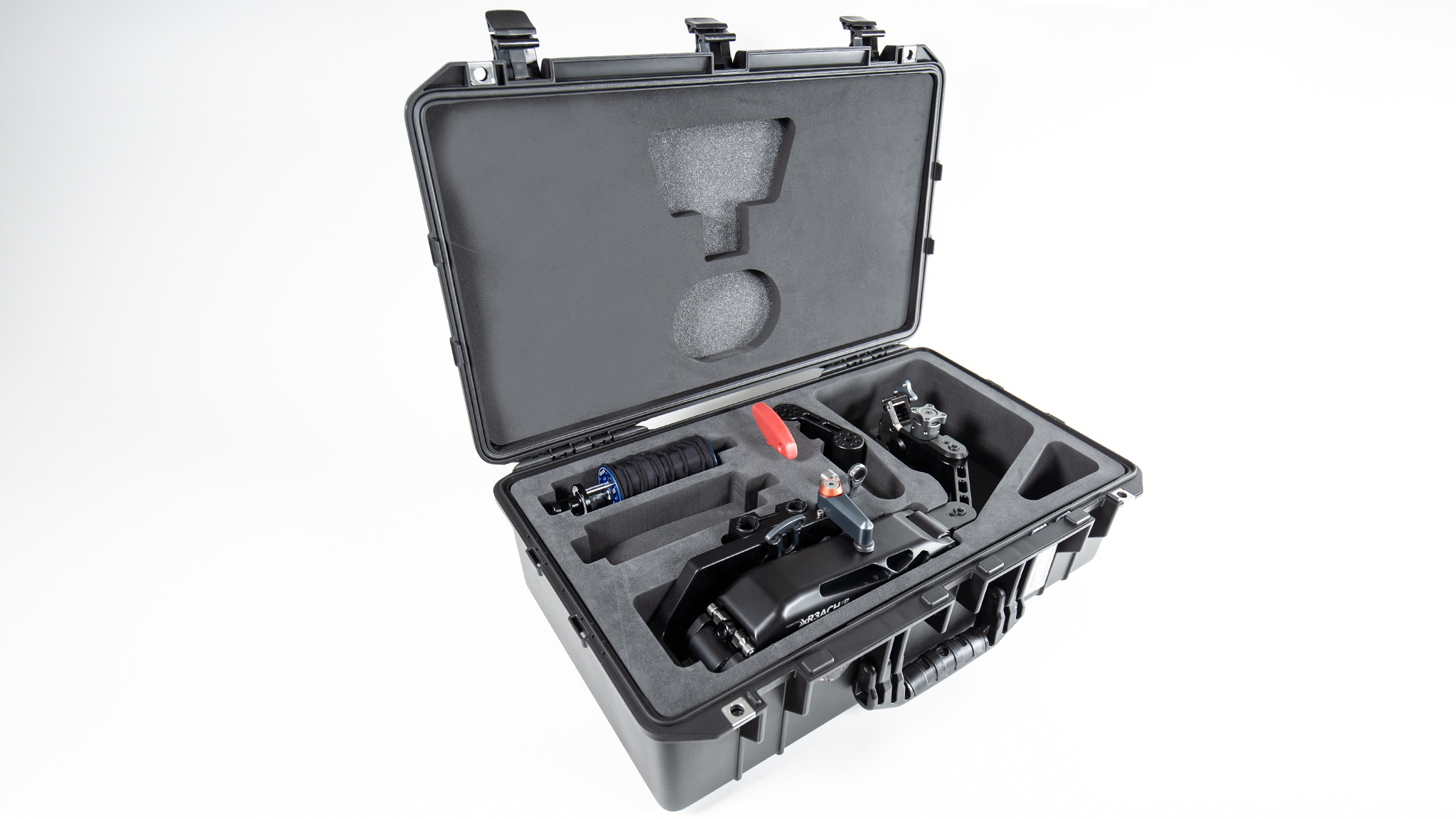 Type: Goofy / for Vest: Walter Klassen / SKU: x-xR3ACH-Gfy-WK