Steadicam Steadimate-S Gimbal & Base
Mechanical gimbal collar/yoke and weighted base for use with your own arm with 1/2" arm post ...
kompatibel mit DJI Ronin-S, Zhiyun Crane 2 ...
Mechanical gimbal collar/yoke and weighted base for use with your own arm with 1/2" arm post
Steadicam Steadimate-S Gimbal & Base - SDMS-GIM
TRANSFORM YOUR SINGLE-HANDED STABILIZER
The Steadicam Steadimate-S offers operators increased freedom, endurance, and creative opportunity when working with single-handed motorized stabilizers like the DJI Ronin-S®. By pairing a single-handed stabilizer with a body-worn stabilizer they can be operated for hours with minimal fatigue while maintaining a wide range of vertical movement and adding full panning ability and "low-mode" operation.
Users can minimize or completely eliminate the bouncing image effect that often occurs when using single-handled stabilizers as the Steadimate-S provides x-axis and y-axis stabilization while the Steadicam arm provides z-axis stabilization. The addition of the Steadimate-S easily and affordably transforms single-handed motorized gimbals into professional video stabilization systems.
The Steadimate-S comes standard with a post block and balance pin that fits arms with 1/2" posts. The weight capacity varies depending on the single-handed stabilizer, arm, and vest being used. The Steadimate-S adapter can be purchased on its own for use with existing arms and vests, or as a complete kit available in two weight classes. The Steadimate-S 15 System comes with the A-15 Arm & Aero Vest and offers a 15 lbs./6.8 kg weight capacity, while the Steadimate-S 30 System comes with the A-30 Arm & Zephyr Vest and boasts a 30 lbs./13.6 kg capacity.
Zubehör / In The Box:
*Does not include Stabilizer Arm or Vest. Only for operators who already own a compatible Steadicam system. (See Below)
Steadimate-S Gimbal
Base Bracket
Balance Stud
Clamp Rings & Screws
1/4-20 Tripod Adapter
3mm Allen Key
3/8-16 Anti-Rotation Screws
2 Weight Rods
2 Clamp Adapters
4 x 1/4 lb (0.11kg) balance weights
6 x 1/2 lb (0.22kg) balance weights
Instructions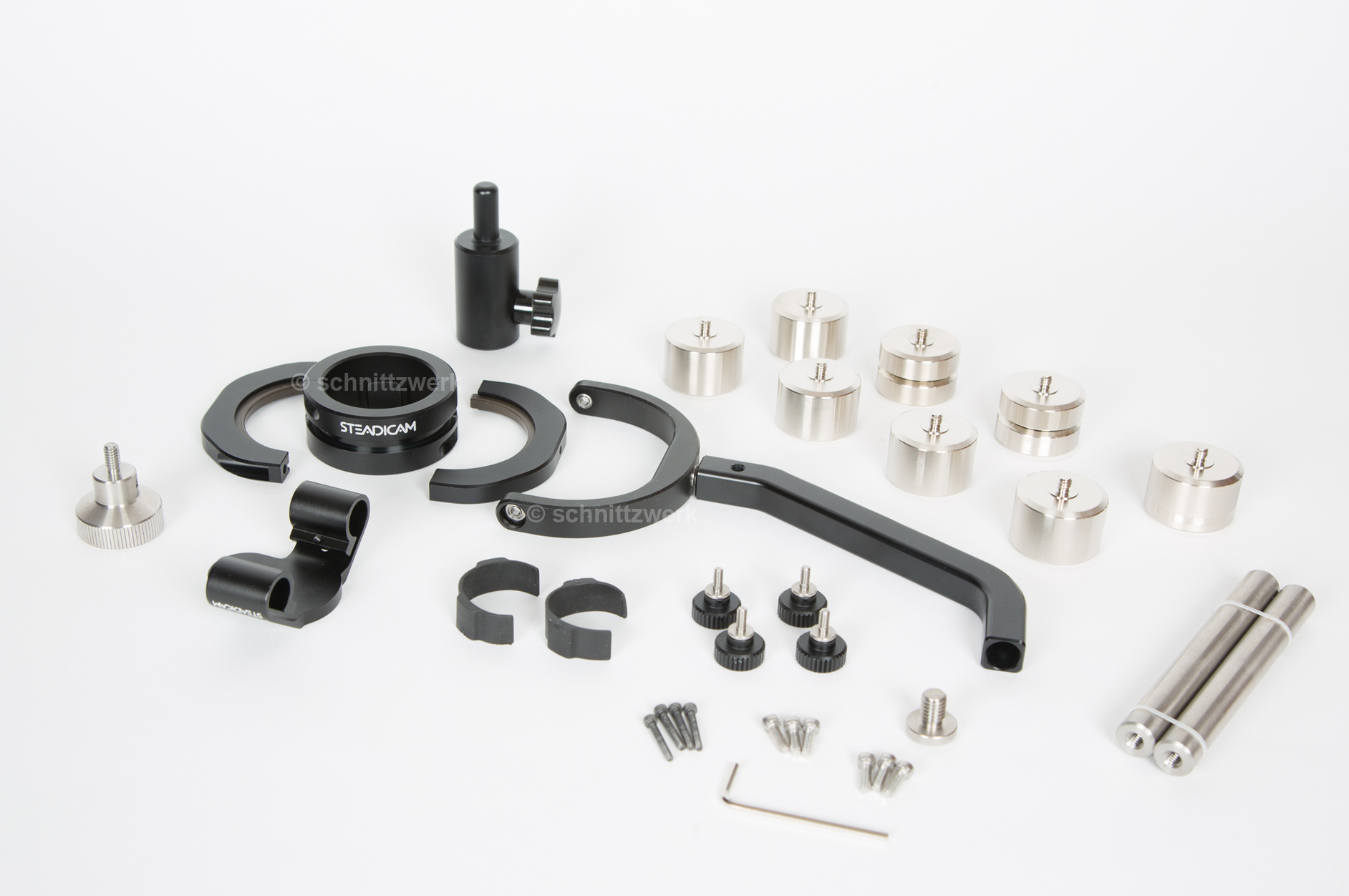 Steadimate-S InstallationGuide - klick on the picture to get connected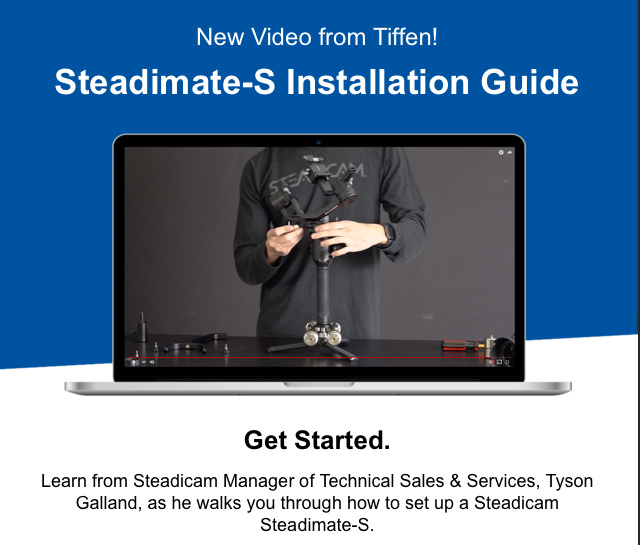 idealer Adapter um ein Gimbal zu kombinieren.