Chrosziel Tripod plate for cameras with V-connection, 3/8 "+ 1/4" thread
Chrosziel QuickLock plate, quick release tripod plate for cameras with V-connection, 3/8 "+ 1/4" thread. Ultra-light made of high-strength aluminum, low-noise locking mechanism, backlash-free fixation of the camera by pulling and pushing (replaces 401-130).
The locking mechanism of the Chrosziel QuickLock Plate 401-150 consists of three parts: 1. a movable unlocking bolt at the front, 2. the fork-shaped locking slide in the middle and 3. a retractable safety bolt at the rear.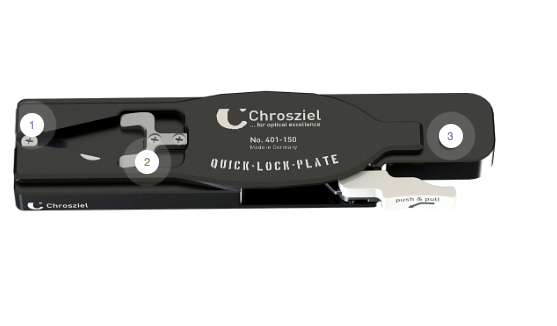 To attach a camera with a V-mount adapter plate to the quick release plate, it is simply pushed into the V-shaped recess on the front and the locking lever engages to the right. The following happens: The unlocking bolt (1) and locking slide (2) move forward / left, the safety bolt (3) down.
Compared to conventional Quick Release Plates or VCT Tripod Plates (each without retractable securing bolts), the advantage of the Chrosziel securing method is that the retractable securing bolt (3) clamps the rear fastening mechanism on the underside of the camera without play even if it is through frequent use is rejected.
A lightweight support (e.g. 401-EVA1) is available as a supplement for cine cameras that are only equipped with tripod screw threads on the underside and are to be attached to a quick-release plate. If rods are required on the ENG setup, a lightweight support (e.g. 401-50 for Sony) is also useful.